We are happy to welcome you on the site of Certification Center «ROSTEST»!
About us
The project was designed by a team of Russian specialists in the GOST R certification.
Our mission:
To tell about the most common certificates such as ROSTEST Certificate, Declaration of Conformity and others that are mandatory for import of products into the market of the Russian Federation;
To simplify the process of getting the certificates for foreign producers without traveling to Russia.
We attempted to consider the language obstacles and created a crew of managers and experts speaking English, Italian, German, Swedish and Russian. This site was created by Russian-speaking specialists so there is a possibility that you may face some grammar or spelling mistakes.
As customs clearance of import products and their further distribution in the Russian Federation there is a necessity to certify production with ROSTEST Certificate. Therefore  to accelerate transportation of your goods abroad it is important to receive beforehand certificates and other kinds of documents that are obligatory by different State agencies. Here is a list of the most common certificates: the Certificates of Conformity GOST R (ROSTEST Certificate), fire safety Certificates,  Hygienic conclusions of Rospotrebnadzor and other types  Russian Certificates for goods.
The «Rostest Center» Official Certification Center
Being an authorized certification agency, Rostest Center has a staff of  experienced specialists and competent consultants always ready  to help  you in obtaining GOST R certificate and other types of Russian certificates for customs office  and distribution in Russia.
Within the term of 24 hours after providing us a short technical description of a product we provide you with:
an approximate calculation of the cost of our services,
the necessary information about  required documents,
the stages and time schedule to prepare the certifications.
All kinds of requests and questions are free of charge until we start working with  your application.
State accreditation certificate № ROSS RU.0001.11AB75.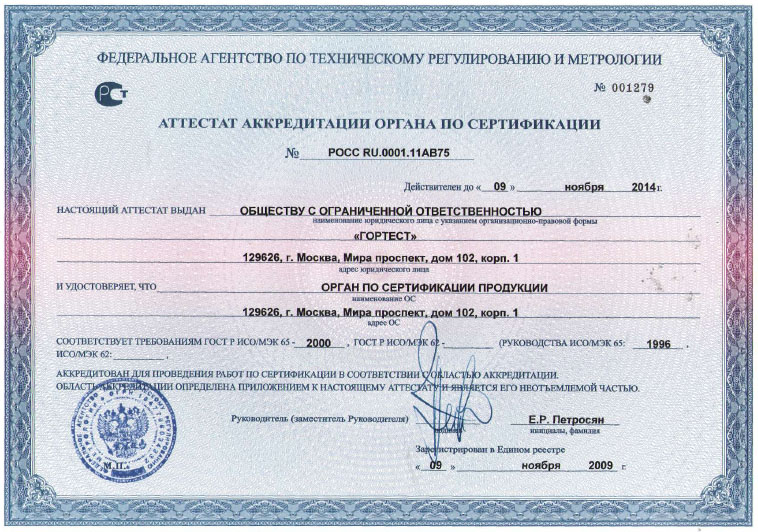 Our task  is to help foreign firms and  companies with the process of  Russian certification. We perform all types certificates and all types of certification services. After receiving your application/request Rostest Center provides you with all the data you may need in order to obtain a certain certification. After you agree with our conditions, we will perform all the work to provide with you the proper certificate.
«ROSTEST Center»- our services comprise
The Certificate/Rostest Certificate
The Fire safety declaration
The Fire safety certificate
The Refusal letter
The Certificate of origin
 The Ecological Certificates Euro 4, Euro 5
The Authorization (license) for the usage from Rostechnadzor
The Conformance certificate of explosion protection (EX marking)
GOST R Certificate and Declaration of Conformity simplify the procedure of entering the market of the Russian Federation
Having the GOST R certification your firm will have an easier way into the market of the Russian Federation being the standard and approved certificate familiar to all businesses on the territory of Russia. With the ROSTEST Certificate, Declaration of Conformity and others your firm has a great advantage over  those foreign companies working without these kinds of documents and requirements approved in Russia.
Studies show that Russian consumers prefer purchasing products from foreign manufacturers/firms that have their  GOST R certificates of conformity  and other types of  Russian certificates such as ROSTEST Certificate and Declaration of Conformity in order, rather than purchasing products from manufacturers/firms that do not have these documents.
After once having the certification process completed in Russia, a foreign supplier can provide all its Russian partners with  copies of the certificates, and they will not have to waste extra time and money. The same situation is for B2B as the  GOST R Certificates of Conformity  and other types of Russian certificates that are well known and can help your firm with obtaining the quality stamp you deserve.
The Rostest  Center of certification  operates directly with producers and processes certificates for commercial production of goods and lets you to give a copy of the certificate to any Russian customer or distributor in our the country.
Here is a list of questions about certification in Russia that we answer in our center
How do I learn what type of certificates is needed for the different products exported to Russia?
Common groups of goods that require a GOST R  certificate of conformity. How to define the need for customs clearance certificate. > More >
What documents are obligatory for the Center of Certification?
The list of documents necessary to pass trough the procedure of obtaining certification mark Rostest. > More >
Do I have to provide samples of production in and out of production ?
The requirements for product samples, if it is possible to issue a certificate without visiting manufacturing. How long does the procedure take. > More >
The example of certification
The specialists of the center describe the standard pattern of cooperation during the process of certification in our center. Key milestones and significant  issues. > More >